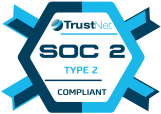 Davie, FL, April 2, 2022 – Certified Medical Consultants, a leading global provider of Independent Medical Examinations, today announced that it has successfully completed its SOC 2 Type 2 Attestation. This milestone reinforces Certified Medical Consultants commitment to client trust and care.
"Certified Medical Consultants' dedication to security continues to earn the trust of clients worldwide," said Andy Wanicka. "The SOC 2 Type 2 assessment is further validation that Certified Medical Consultants continues to meet our commitment to safeguard our customers' data and related infrastructure."
The Company worked with TrustNet (www.trustnetinc.com), a leading provider of Cyber Security and Attestation services to produce the SOC reports. This requires an examination sufficient to satisfy the independent service auditor's professional standards for testing the design and operational effectiveness of controls. SOC 2 compliance is critical in satisfying the needs of a global audience. The SOC 2 criteria are established by the American Institute of Certified Public Accountants (AICPA) and focuses on confidentiality, integrity, and availability of information systems.
"We are pleased to partner with Certified Medical Consultants and provide professional services for this SOC 2 engagement," commented Trevor Horwitz, CEO at TrustNet. "The SOC 2 attestation forms a critical complement of third-party validation for organizations becoming increasingly reliant on their service providers. These standards ensure transparency to customers, employees, and vendors, helping strengthen their trust in Certified Medical Consultants.
SOC 2 is increasingly becoming the "must have" compliance requirement that technology companies need today. As businesses leverage the services of third-party providers, SOC 2 compliance is becoming a necessity for a wide variety of organizations. Meeting the SOC 2 criteria means that Certified Medical Consultants has established processes and practices with required levels of oversight across the organization
The Certified Medical Consultants SOC 2 report is available to clients and prospective clients upon request.